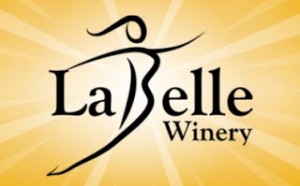 I started the Design Pick of the Week last Monday – and everyone on the Infusion Studio team has been having a great time sending suggestions my way. Some are website banners, some are corporate logos, some are store signs seen while out running errands. But they all have one thing in common: They are all New Hampshire businesses.
And my pick for week two is the logo for what is truly an up-and-coming New Hampshire company, LaBelle Winery in Amherst.
The LaBelle logo allows winemaker Amy LaBelle to embrace her role as a woman business owner in an elegant and feminine way that doesn't scream "girly wine." The organic, gender-neutral colors are appealing to both male and female audiences.
The logo is balanced, which goes hand in hand with how LaBelle and her husband/business partner Cesar Arboleda process their wine: grapes handpicked at their peak, pressed and fermented the same day to produce a fresh, balanced wine.
The graphic icon reflects the strength and confidence of the business owner herself. I especially like the nice usage of the letter B to create the body of the woman. Again, elegant and feminine, appealing to both men and women. The woman's arms are open wide, inviting friends and family to come together to enjoy what LaBelle has lovingly created. This logo projects a feeling of warmth.
So, what can you learn from the LaBelle Winery logo? Don't be afraid to incorporate something of importance to you in your company image – "I'm a strong, confident woman business owner!" for example – as long as you don't let that one trait overwhelm your corporate identity. Cheers to Amy LaBelle and her graphic artist for achieving this in such an eye-catching design.