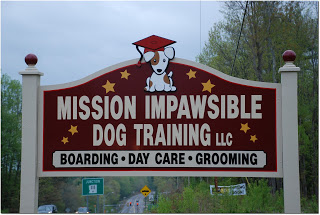 This playful logo for Mission Impawsible Dog Training in Brentwood is super-cute – and very effective at inviting me, as the consumer, to want to take my own dog through the Mission Impawsible training program.
First, the color scheme. Yellow and red are primary colors, clean and crisp. Red has many connotations, and in this case, it makes me think "stop" – as in, heel, sit, stay. The basic commands you want your dog to be able to follow.
Combine the red with white type and yellow stars, and you've got a somewhat patriotic feel to the design. The stars are also reminiscent of those gold stars for good work in elementary school. Moreover, they carry a subtle message for the frustrated dog owner driving by: "You may think instilling manners in your pooch is a mission impossible, but let's shoot for the stars anyway! Come on in, and we'll give it a try!" Talk about a graphical image that can handle triple duty.

The font is definitely what I call a military typestyle – really bold and clean, suggesting a spic-and-span operation with attention to detail. Translation: These folks may think all dogs are as adorable as the one on the sign, but when it comes to training, it's all business. This font suggests discipline!
I like the nice cartoon character, rather than a true illustration of a dog. It's fun, it's eye-catching (the speed limit along this stretch of the road is at least 45 m.p.h.), and it allows the addition of the graduation cap. This well-behaved puppy is even sitting. Wow – I remember how long it took to get our dog to do that as a puppy.
In fact, I wish Mission Impawsible were a little closer to where we live. From the expertly executed sign, it looks like it would have been a fun and rewarding place to take my own golden retriever.