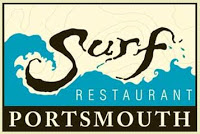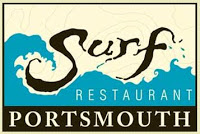 No doubt what sort of fare is served up at Surf, whose fun logo caught my eye online recently. In fact, chef/owner Michael Buckley's establishment has won Best Seafood Restaurant in the state by New Hampshire Magazine numerous times.
A basic design color wise – blue for water and black, with the tan background – the logo for Surf is a good example of how a unique creative element is often best paired with conventional type.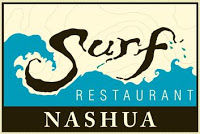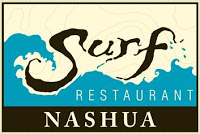 The word Surf is not so much a typeface as it is freehand lettering, and dramatic at that. Very flowy, very dynamic – reflecting the ocean, of course. Restaurant, by contrast, is as simple as can be, and the location (Surf has two, Portsmouth and Nashua) is done in Times New Roman bold for maximum legibility.
The graphic element of the ocean shoreline really drives home that this place is all about the ocean. Good eats for those who like seafood! The overall look of this design tells me the place is open and friendly, not upscale or stuffy.
One more thing…
When I look at the letters for Surf, my eyes play a trick and I see little seahorses in the design. Anyone else see that?! I'm not sure if that was intended, but the playful "hidden" images could be yet another reason the designer opted for such a carefree and fun presentation.