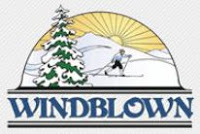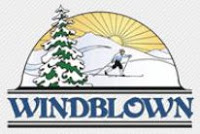 For my third Design Pick of the Week, I've selected the logo for Windblown Cross Country Skiing and Snowshoeing in New Ipswich. Owner Al Jenks purchased the land in 1963 for $15,000 borrowed from his grandfather. He was just 16 at the time, and pursuing his dream would have to wait for college and time in the Army Corps of Engineers. He opened for business in 1972.
Owning the Windblown property has come with its share of challenges over the decades since, from fire to winters with almost no snow. Yet it is the joys that Al chooses to focus on: meeting his wife who became his business partner, raising two sons on the land, sharing their beautiful corner of the Monadnock region with outdoor enthusiasts from near and far as they have built their business year by year.
This logo reflects all the "ups" in Windblown's history with its beaming sun and fresh powder for all to enjoy. The image showcases the serenity people find when exploring Windblown's trails. I get a real sense of country from the wide open landscape. Being a skier myself, I can feel the crisp morning air as the sun rises. I hear the crunch of the snow as the skis glide across its surface.
The font usage and color in the word "Windblown" emphasize these feelings of peace and harmony with nature. You can almost hear the wind ruffling the edges of the letters.
Every business has a story to tell – yours included! Sometimes the tale is best told through a well-crafted narrative on your website. For other companies, graphic design elements in marketing materials can hint at the past. At Windblown, the old-school feel of the illustration underscores the fact that the owners embrace its history, good and bad – fitting for a successful business that began with a grandfather's loan to his grandson because he, too, believed in the dream.