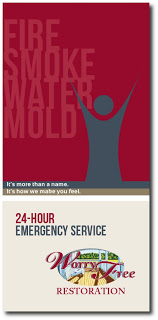 Meeting Tim and Pauline Doucette would give any struggling small-business owner a shot in the arm. The owners of Worry Free Property Management are so good at what they do, and so confident about the future of their business, their energy is infectious. Find your niche, that skill or talent you have better than anyone else in your market – throw yourself into it 110%, and you too can succeed!
Getting to know people like Tim and Pauline is one of the best parts of my job. And one of the most interesting parts is the often surprising things I learn about the world in general while working with such clients.
In this case, the Infusion Studio team was busy the last few weeks putting together trade show materials for Worry Free. We did a table display with vertical banners. We did two brochures, one each for the company's property-restoration and property-management divisions. And we did a display rack featuring sell sheets on Worry Free's expertise in handling fire, smoke, water, and mold damage (which will do double duty after the trade show in the informational folders given to new and prospective clients).