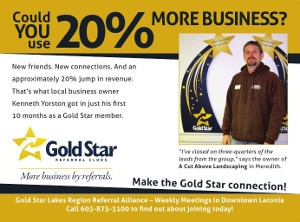 When sitting with a professional graphic designer to work on a print ad for your business, it helps to understand some of the basic principles of effective magazine and newspaper advertising.
1) Details, yes – multiple messages, no.
It's okay to include details and small print in your ad – if you're working with an experienced designer who can retain an uncluttered look for the layout. (And better yet, a designer working in conjunction with a copywriter who can present your content as concisely as possible!) What you don't want to do is have multiple messages in your ad – it may not be visually cluttering, but the impression the reader takes away will not be clear.
2) Balance color and size options.
Depending on the ad's layout and the publication you plan to run it in, a smaller color ad may be more effective than a larger black-and-white ad. May is the key word. A well-designed b/w ad might also be the more eye-catching choice when run on a page filled with color! Have samples of the publication on hand so you and the designer can use your ad budget most effectively.
3) Consistency is key.
When you have approved your designer's layout, stick with it. You want your "look" to be something customers and potential customers recognize without needing to read the headline and supporting text.
For example, the Lakes Region Referral Alliance plans to run a series of ads spotlighting members of our Laconia-based Gold Star group (the first ad, seen here, features Ken Yorston of A Cut Above Landscaping in Meredith). Each headline will be different, as will much of the text and the photo, of course. The overall look will be the same for the entire series.